What to look for in a good Security Screen
Planning to install a security screen? That's one of the best things you can do for your home security. The sight of sturdy screens installed on your doors acts as a visible deterrent for intruders. By preventing the entry of insects into your home, these screens help create a comfortable living space for your family. And when the weather turns bad, the strongest security screens can protect your home from hail, debris and branches.
However, to enjoy all these benefits, your security screen has to be a top-grade one that meets Australian quality and safety standards. So how do you choose the right security screen from the numerous options available out there? What features should you look for in a security screen?
Read on to discover some tips that will help you with this.
Features to look for in a security screen
Security screens are available in different materials, designs, sizes, colours and other specifications to cater to various home decor styles and customer budgets. The important thing to ensure is that the screen offers the level of security, convenience and comfort that you expect. Here are a few tips to get you started.
1. Compliance with Australian standards
Only screens that comply with AS5039-2008 Australian standards can actually be termed security screens. Such screens pass several safety tests such as knife shear tests, salt spray tests, pull tests, probe tests and dynamic impact tests before receiving the certification.
These tests have been designed to ensure that security screens can withstand the effects of daily wear and tear in addition to resisting attempts of forced entry. Check for the certification on the screens before making a purchase.
2. The material of the mesh and frames
Security screen doors are usually available in steel and aluminium. Steel screens feature the most solid build and will be an ideal choice if security is your prime concern. Available in widths ranging from two to three inches, steel security screens that are professionally installed and powder-coated can work fine for up to 10 years. For example, our Invisi-Gard security screens and doors are made from High Tensile 316 Marine Grade Stainless Steel Mesh giving it an unmatched quality, precision and longevity.
Aluminium security screens are not as sturdy as steel and therefore come in wider dimensions of six inches in width. These screens are not vulnerable to rusting like steel doors and may be considered if you are on a tight budget.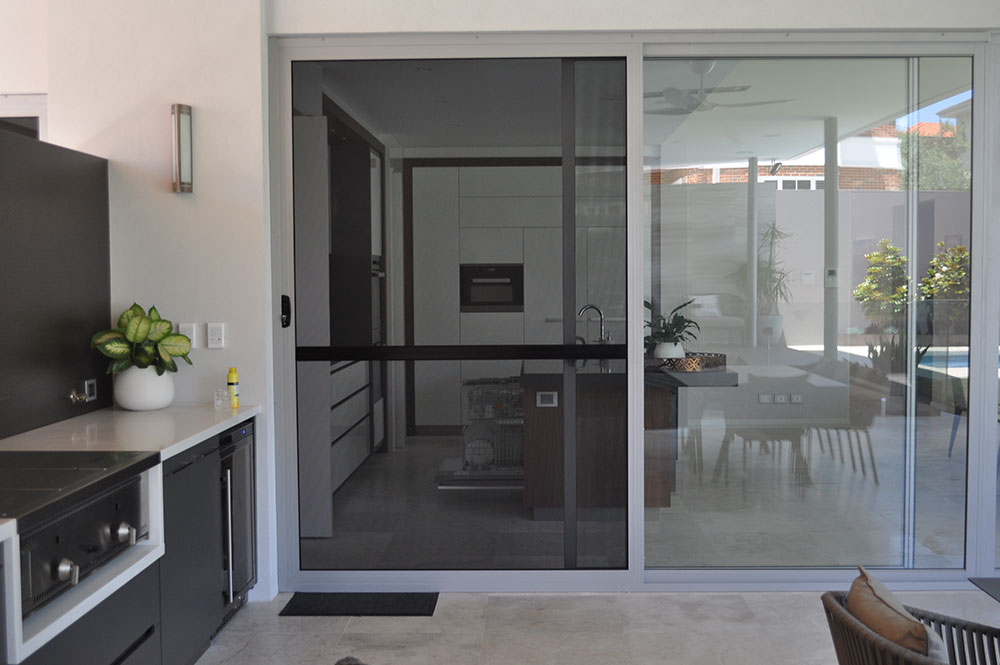 3. Locking mechanism
Security screens with a three-point locking system work best in resisting attempts of forced entry. Ensure that your screens are welded with your door frames with reinforced corners and feature at least three recessed hinges.
4. Self-closing mechanism
What if someone leaves the house and forgets to close the security door? A pneumatic closer is a neat solution to this issue. This is also a great way to prevent kids from slamming doors. A pneumatic closer ensures that the door closes gently on its own every time someone enters or exits. Remember that this is an add-on feature that you may have to request especially.
5. Professional installation
According to Australian standards, security screens have to be installed by licensed technicians. Deciding to handle the installation on your own is not a good idea since a less-than-perfect installation renders the screen incapable of serving its purpose. Professional installation incurs additional expenses but is worth it in the long run.
Now that you know what you should look for in a security screen, use these tips to choose the best material that scores high in terms of security and looks. You can find a great variety of security screens in Perth and Western Australia. It is necessary to find the right ones and get them installed professionally for the best results. This is why we test every product or model before recommending it to our customers and provide expert installation. Contact us to speak to a consultant right away.