How to care for your Security Doors
The significance of security doors in protecting a home is undeniable. They secure the most obvious entry points for unwelcome intruders, such as burglars or pests. Since security doors are available in a wide variety of styles and colours, you can also use them as an element that elevates your home décor. The many benefits of good quality security doors make them a financial investment that improves the value of your home. However, if not maintained properly, they can deteriorate quickly. Here are a few tips on how to care for your security doors.
Here are five ways which can help you care for your security doors.
1. Ensure that the door is made of good material
Maintenance is the second step of having a solid security door. The first step is to buy a door that uses excellent components. When you're browsing your options, check the constituents of the product and the customer reviews. If both of these factors are positive, then you'll be able to enjoy the benefits of installing security doors without worrying about failures and repairs.
2. Clean the doors regularly
Prevention is always better than cure. Regularly cleaning your doors will prevent dust build-up. By doing so, you'll be able to reduce the chances of the door getting rusted or looking dilapidated. When you should remove the impurities depends on your location. On an average, you should clean a door every six months. If your home is near the ocean, where there's a lot of humidity and salt in the air or an industrial area where there are high amounts of chemicals and dust, you may have to clean the doors more often. Cleaning includes washing down the frames and the mesh as well.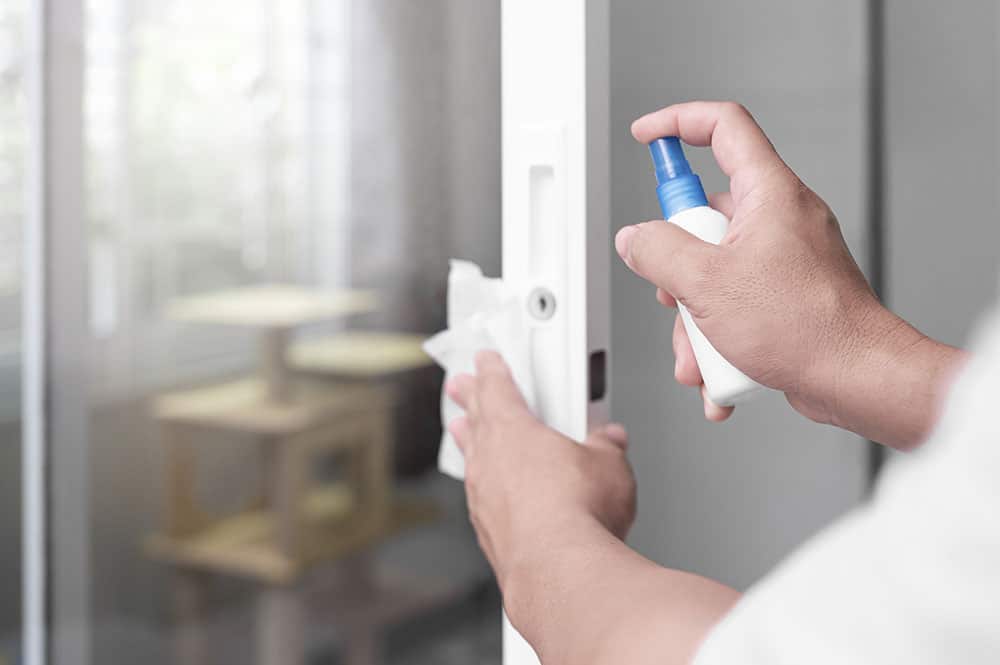 3. Use suitable materials to clean
Lightly vacuuming will get rid of loose dirt and grime on your security doors. When you're dusting off the doors and screens, always use a brush with soft bristles. If you use a hard-bristled brush, it could scratch and damage the surface of the doors. It is easy to remove dirt using a mild soap solution and a soft cloth. Once the doors are dusted and treated, rinse them down with fresh water. For coastal or humid climates, always go for products that remove salt and reduce the chances of corrosion. After cleaning, dry the doors using a soft cloth. You can also check if there are specific products that cater to your security doors' brand or material. Remember to read the instructions clearly before spraying them on.
4. Do repairs when needed
There's a tendency among homeowners not to see a professional till the door is completely dilapidated. Security doors are crucial to your safety, so it's better not postpone their repair jobs. Re-wiring, replacing locks and hinges, repainting, frame fixes- the list of repairs your door may need to work efficiently is long. If you're living near the ocean, you may need to add another coat of anti-rust solution. Check for a trusted dealer to help you repair these issues so your doors can stay perfect.
5. Additional features for your security doors.
This is an optional step that will benefit you in the long run. Just because your door looks "okay" doesn't mean you have to be content with it. You can make the door more eye-catchy by adding more artistic elements, such as sliders. You could also add more security elements such as digital locks, an alarm system or even security cameras. If you need custom-made security doors or sliders, contact EzyFit Doors right away for an obligation-free quote.
Security doors are part and parcel of home security. Taking care of the doors are vital for the same reason. We hope these five simple tips have given you an idea of how to care for your security doors. Are you looking for the perfect security doors for your home? We're here to guide you. Ezy Fit Doors offer trendy and personalized security doors for WA families. Contact us if you're in need of need assistance in installing the best security screens and doors.