Fly Screens Vs. Security Screens – Here Are the Pros and Cons to Help You Choose Better
Insects can be a real nuisance in many parts of Western Australia, especially when they find their way into homes. Mosquitoes, flies, midge flies, wasps, bees, locusts, crickets and similar insects can be attracted to homes for various reasons and pose safety and health risks to your family. This is why most homeowners decide to equip their doors and windows with protective screens.
While fly screens may seem like a good idea to keep away insects, are these flimsy structures adequate to keep out unwanted intruders as well? Or do you need to turn to security screens to keep your family and possessions safe?
Choosing between flyscreens and security screens is not easy unless you have a thorough understanding of these two versions. Here is a comparative analysis of fly screens vs. security screens to gain better awareness about the pros and cons of each.
1. Material and build
Flyscreens are crafted from fibreglass or aluminium mesh capable of preventing more than 90 per cent of insects from entering your home. However, tighter meshes like midge mesh can adversely impact ventilation and lead to your home feeling stuffy and uncomfortable.
Security screens are made from high-grade aluminium or stainless steel to keep insects out, enable air circulation and protect your doors and windows from intruders. The best security screens pass through a series of rigorous tests to ensure that they adhere to Australian quality standards.
2. Level of security
Flyscreens are not security screens and, therefore, not subject to Australian security standards. They cannot withstand attacks using sharp objects or weapons, and can be easily broken into or removed by intruders.
With Security Screens, the sturdy mesh, strong frame and reliable locking mechanism offer unmatched security against break-in attempts and knife attacks.
3. Durability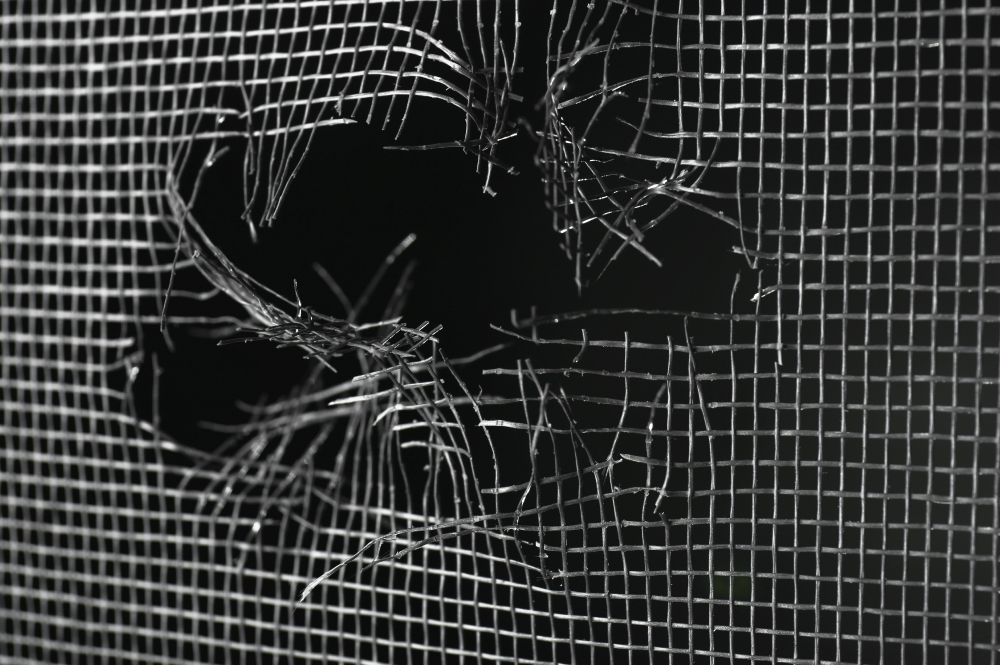 Flyscreens do not age well. These screens are highly prone to damage and developing holes. Rough use by children and pets can aggravate the damage, thereby demanding frequent repairs or replacement.
Security screens feature a tough build capable of surviving rough weather conditions and daily use. These screens ate incredibly durable and can come with warranties of above 10 years.
4. Cost factor
This is one major point in a discussion on fly screens vs. security screens. Flyscreens do not cost a great deal due to their low-grade build. Additionally, they are not subject to industry regulations and do not have to adhere to security standards. It is therefore easily affordable for all homeowners.
Security screens cost more than fly screens because of their superior construction and guaranteed security features. However, it is an investment that will provide your home with a whole lot more than just protection from insects.
It enhances the visual appeal of your home, ensures the safety of your family, facilitates excellent ventilation and lasts for decades. More importantly, it lets you maintain more privacy within your home while still offering an unobstructed view of the outside world.
Taking a decision on Flyscreens vs Security Screens
Now that you have gained a better understanding of fly screens vs. security screens, you will hopefully find it easier to make an informed decision. The crucial factor to be considered is your security need – do you need to secure your home and ensure airflow at the same time or can do with a feeble screen to keep away insects.
Security screens score better in terms of security, ventilation, durability, protection from insects and visual appeal. Most importantly, these screens secure your home while offering a clear view of your surroundings. On the other hand, Flyscreens are less costly but score low on other points, including all important security.
EzyFit Doors recommends and works with only high-quality Security Screens that pass or exceed Australian standard requirements. Contact Us for a no-obligation quote today.