8 Mistakes Homeowners Make with Security Doors and How to Avoid Them
A security door is an important addition to any home, and it's crucial that you select the right one and install it properly. There are many common mistakes that people make when choosing and installing a security door in Perth, and in this blog, we will discuss them all. We'll also provide tips on how to avoid these mistakes so you can ensure your family's safety!
1. Not checking the door's construction and material
One of the most important things to look for in a security door is how it is constructed. Unfortunately, many people don't take the time to check this and end up with a door that is poorly made and won't provide adequate protection. Be sure to look for doors that are made from solid materials like steel or iron and have thick frames. Also, ensure that the mesh is of superior quality and can withstand strong impact. Invisi-Gard stainless steel security mesh is one of the best available products in the Australian market. Invisi-Gard is made from high tensile 316 Marine Grade Stainless Steel mesh and exceeds the Australian Standards in security.
2. Not choosing the right size
One of the most common mistakes people make when selecting a security door is choosing one that is too small. A door that is too small will not provide adequate protection against intruders, and it can also be easily damaged. Make sure to measure your doorway carefully before selecting a security door so you can be sure it will fit properly.
3. Not reinforcing the security door frame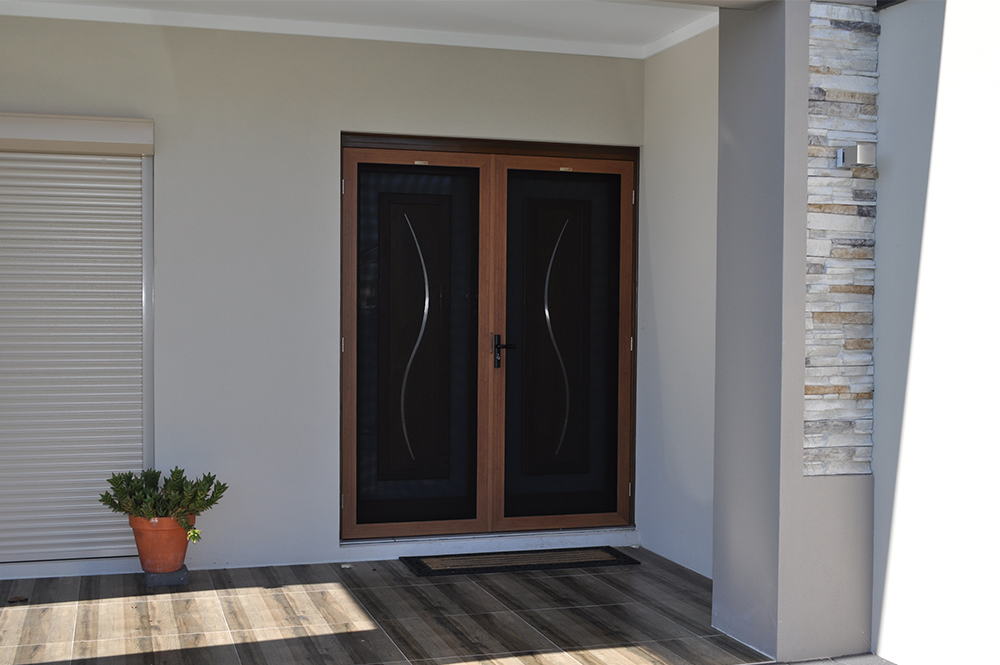 Another mistake people often make is failing to reinforce the door frame. The door frame is the weakest part of the door, and if it's not reinforced, an intruder can easily kick the door in. Always reinforce the door frame with heavy-duty screws or bolts to ensure maximum security.
4. Not paying attention to the locks
The locks on a security door are just as important as the construction. Make sure that the locks are made from high-quality materials and are installed properly. Also, be sure to check that the locks are compatible with your home's existing security system.
5. Not checking the hinges
Another important part of a security door is the hinges. These should be made from strong materials like steel or iron and should be installed properly. Be sure to check that the hinges are compatible with your home's existing security system.
6. Not getting professional installation
Many people try to install security doors on their own, but this is often a mistake. Security doors are designed to be installed by professionals in order to ensure that they are properly installed and functioning correctly. Trying to install a security door yourself could result in damage to your home or injuries to yourself.
7. Not choosing a design that suits your home
One common mistake people make while choosing a security door for their home is not taking into account the layout of their house. Many times, people will choose a door based on its appearance without considering how well it will fit into their home's overall design. This can lead to problems later on, such as the door being too small or not matching the rest of the house's aesthetic. It's important to take your time and choose a security door that both looks good and functions well in your home. It may be helpful to take professional help in choosing the right security door for your home.
8. Not maintaining the door
Once you have a security door, it is important to keep it in good working condition. Neglecting to do this can result in the door becoming jammed or stuck, which can be a serious safety hazard. Be sure to regularly check the locks and hinges to make sure they are still functioning properly. Also, be sure to clean the door on a regular basis to remove dirt and debris that could compromise its effectiveness.
Avoid these common mistakes when selecting and installing a security door for your home, and you'll be sure to keep your family safe! Be sure to take the time to find a well-made door from a reputable manufacturer and have it installed by a professional for the best results. If you have any questions about Security Doors in Perth, feel free to contact us today.