6 Tips to Help You Choose the Best Security Door
A secure home is a happy and stress-free home. A security door is an important part of your home's security measures. They are the first line of defence against unwanted intruders. Top grade security doors are incredibly strong and capable of withstanding break-in attempts by the most determined burglars. In fact, studies show that burglars tend to skip homes equipped with security doors, instead choosing ones that are easier to break into.
Well-designed security doors facilitate ample air circulation and allow in natural light without compromising on the security aspects. If you are planning to install one and have questions about how to choose the best security door for your home, here are six tips that will help you make an informed decision.
1. The door material must be sturdy and durable
Security doors are generally available in steel and aluminium versions. Steel security doors are the more robust of the two, featuring heavy-duty steel or iron bars. Aluminium security doors are also chosen by many customers for their lightweight yet strong nature and ability to withstand corrosion in coastal regions. Ensure the security doors you install meet Australian industry standards.
2. Choose the right style based on space availability and personal choice
If you have space constrictions or need to cordon an outside area, bi-fold or sliding security doors can be an ideal choice. Sliding security doors are usually chosen to reinforce back doors or side doors. To provide additional security for front doors, most homeowners choose hinged doors.
3. Reinforce security with strong door frames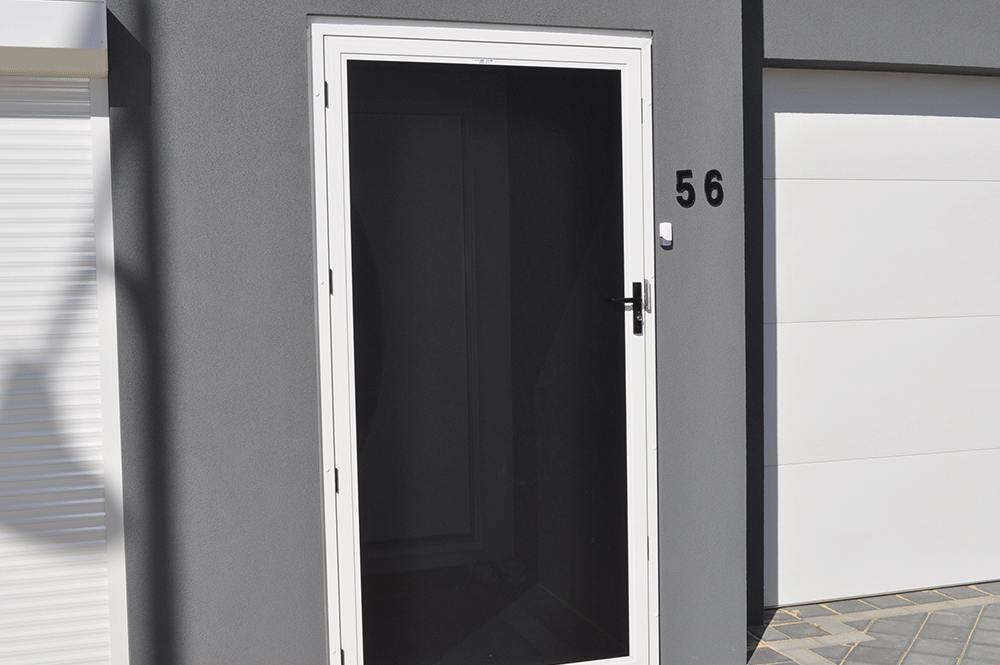 Choose matching frames along with the security doors to get an end result that is totally tamper-proof and visually appealing. Aluminium or steel door frames are good choices that facilitate easy installation.
4. Go for doors with weld-on, pin hinges
In addition to ensuring smooth operation, high-quality hinges are also resistant to unwanted intrusions. Pin hinges with non-removable pins offer unmatched security since these hinges are welded to the door frame. These are comparatively better than doors with butt hinges.
5. Pay attention to the locking mechanism
Inexpensive security doors come with latch bolts that can be easily kicked open. If you are serious about securing your home, choose doors featuring deadbolts or cylinder locks. Ensure that the locks come from reputed brands with a minimum of five pins.
6. Get a customised security door
Although you may be tempted to buy ready-made doors due to the lower price tag, remember that most of these feature sub-standard build and fitting. To ensure that the security door you choose is a perfect fit for your home, place an order for a customised security door that matches your existing door colour and design.
These tips will prove valuable in helping you decide how to choose the best security door for your home. Once you have decided on the security door, it is equally important to get it installed correctly to ensure maximum safety. You might have spent a fortune to create a beautiful and comfortable home. So, it makes sense to keep your home, family and possessions safe by investing a very affordable amount on securing your home from unwelcome intrusions. Security doors can help you do that and guarantee complete peace of mind.
EzyFit Doors has been providing security doors and screens to Perth and WA since 1990. We thoroughly test every security door before we recommend it to our customers. Because as we always say, it is our right to feel safe in our homes. Need a security door for your home? Contact Us for a no-obligation quote today.