What you need to know about Window Security Screens
Window screens are common features of every home construction in most parts of Australia. They allow the circulation of air in hot weather with the added benefit of preventing insects from entering. However, as effective as they may be at keeping out insects, fly screens offer very little security and can be easily broken through – Not what you want for your home!
Window security screens, on the other hand, are strong enough to withstand most attempts at forced entry whilst retaining the advantages of flyscreens. They can also be installed on all types of windows.
Thinking about getting window security screens for your home? Here are a few things you need to know.
Do I need Window Security Screens?
You may be asking yourself: "Do I need security screens on my windows?" "Should I cover the whole window or just the opening?"
It is a must to put a security screen over the opening part of your window at the very least. This enables you to leave your window open through the summer months.
When deciding to cover a whole window, choose the window that you think is most likely to be broken into, which would give the burglar time to access your home without being seen (kids' bedrooms are an important place to start).
For your Security
Did you know that one of the most common entry points for criminals to break in is through windows that have been left open to allow fresh air to flow through homes?
At Ezy Fit Doors in Perth, we manufacture and install our own security screens for windows to provide an effective barrier against intruders. We can fit all windows, including sliding windows, winder windows, and even louvred windows.
When looking for a security screen for your windows, you may notice that some companies offer tamperproof screws or rivets. We only offer tamperproof screws, which are definitely the best option. You may presume that a burglar can unscrew them, but we can assure you this doesn't happen, especially with a powerful battery driver and a tamperproof screw.
Below is an example of a window screen that was riveted on and how it has popped out of the hole: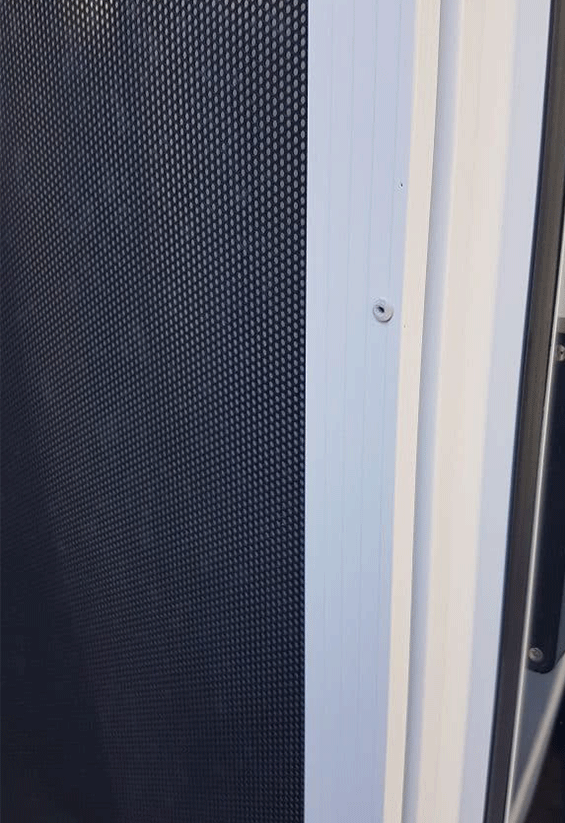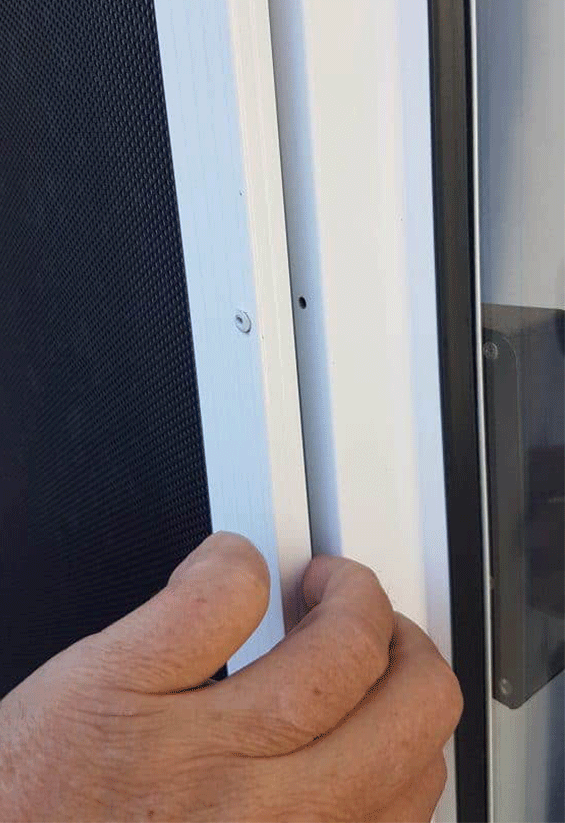 See why we use only use the tamperproof screw option?
Seamless Fitting System
Security Screens are traditionally fitted to the outside of your window frame. As architecture has evolved to provide an ultra-modern, streamlined finish to newer homes, we have improved our fitting system to keep up with this trend.
Now, we offer seamless security screens which are fitted from the inside of your home, with no exposed rivets and a completely flush finish, making these screens very attractive, whilst maintaining the highest level of security.
Mesh Options
This fitting system also allows us to install on multi-level dwellings such as apartments too.
We can fit your security screens using any of the following products:
Invisi-Gard Stainless Steel Mesh
Alu-Gard Edge Perforated Aluminium Mesh
Diamond Grille
Choice of Colours
With Ezy Fit, you can choose from our standard colours or a custom colour from the Interpon or Dulux Powder Coating Colour Range.
Click here to see our standard colours range.
Ready to add more security to your windows at home?
Contact us or ring us on (08) 9248 3993 to receive an obligation-free quotation today. We design, manufacture and install customised window security screens and have been protecting WA and Perth families for over 25 years.