Why should you install Invisi-Gard security doors in your home?
A safe home to relax in after a long day at work is a dream that's important to many. There are multiple ways you can ensure the safety of your home, like security cams, alarms, digital locks, security doors etc. When it comes to security doors, choosing the right one is key in keeping your home protected. So, which is the best security door in Perth? Invisi-Gard tops the list with its proven results and customer satisfaction. Read on to know more about the benefits of Invisi-Gard security doors and why you should install them in your home.
1. Guaranteed Durability
Crafted with high tensile 316 marine grade stainless steel mesh, Invisi-Gard security doors will be the best investment for your home security. These sleek doors are a strong blend of beautiful aluminium and powerful stainless steel, making them the best line of defence against any intruders.
Invisi-Gard doors have proven to stand to the test of time with minimal maintenance. They come with a 15-year warranty for your family's peace of mind.
2. Stylish and Safe
Invisi-Gard doors are customisable to suit your liking. They come in various options- a wide range of powder coat colours and shapes is available for you to choose from. Instead of an unappealing block of steel, select the security doors that match your home's aesthetics.
Invisi-Gard security doors have been tested and certified per Australian standards. These doors are:
Corrosion-resistant
Efficient against knife, crowbar and sledgehammer attacks
Cyclone-protective
Energy efficient
Fire attenuative
3. Versatility for All-Around Protection
With Invisi-Gard, you can protect your whole property. The front door is not the only entry point that needs to be strengthened. Burglars would always look for vulnerabilities in your security system. A slightly ajar window or a back patio that's not well-guarded can be an easy way in for intruders.
Invisi-Gard provides security screens, patio enclosures, sliding doors and windows, and fencing around the pool. The emergency escape systems, Invisi-Gard Emergency Escape Screens, can put your mind at rest with its simple mechanism as well as its ease of cleaning.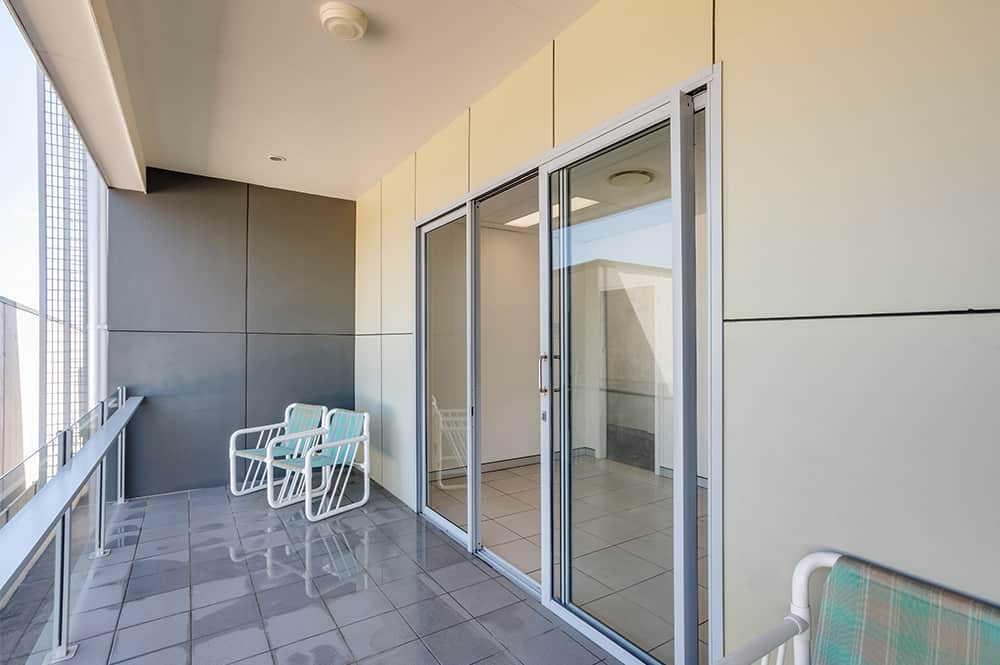 4. Airflow
Invisi-Gard security doors utilise a finer wire in the mesh weave, which allows greater visibility and airflow. Even though the wire is finer, it is also robust, so you don't have to compromise your safety to enjoy the fresh air.
5. Sliding Doors and Hinged Doors
More and more homes in Western Australia are integrating sliding doors into their entertainment areas and gardens. Invisi-Gard doors are the perfect way to implement exceptional security while maintaining a beautiful view. When there's no space for a hinged door, sliding doors act as an aesthetic yet practical solution. These doors are the most resourceful stainless doors available in the market now.
The hinged doors by Invisi-Gard are stylish enough to accentuate the charm of your home and strong enough to protect it from all sorts of intruders. Their three-point locking system and the 316 mesh make them powerful barriers.
6. Meets All Australian Standards
Invisi-Gard meets all Australian standards for security systems. It is strong enough to exceed the impact requirements and passed the lock and lever tests, jimmy tests, pull tests, and knife shear tests. These all make Invisi-Gard systems one of the most popular and secure security systems in the market.
7. Adds Value
Being world-standard in terms of quality and longevity, Invisi-Gard doors add value to your home. They're robust and would last as long as the property lasts, which makes them a good investment. You wouldn't have to worry about replacing the doors or about their maintenance.
If your property is in a neighbourhood that's prone to break-ins, these doors would be effective in attracting potential buyers. Owing to their strength, Invisi-Gard doors are immune to burglars, making your home a safe purchase.
Invisi-Gard vs Crimsafe
Now let's see the difference between Invisi-Gard and Crimsafe – The two popular choices in the market.
As we mentioned above, Invisi-Gard uses Marine Grade 316 Stainless Steel mesh while Crimsafe uses 304 Stainless Steel mesh. Even though both meshes are solid and durable, the Crimsafe's mesh is less corrosion resistance when compared to Invisi-Gard's mesh.
Invisi-Gard systems can be dismantled when you need to service the window or door. In the case of Crimsafe, you will need to replace the entire window or door.
Invisi-Gard systems incorporate the patented retention system, which locks the mesh into the framing. This prevents sliding and stacker door panels from scuffing against each other during use. The Crimsafe system doesn't tension the mesh.
The pressure retention system allows Invisi-Gard to isolate the Stainless Steel from the Aluminium frame entirely. This ensures there is no galvanic corrosion. While the Crimsafe uses stainless steel screws for fastenings, causing contact with the Aluminium frame, leading to corrosion. Corrosion can reduce the life span of the systems.
It is important to select the right security doors while building a security system for your home. Invisi-Gard security doors' benefits include their longevity and functionalities, making them the perfect choice for safe homes. It is also important to install them correctly for them to be useful.
Ezy Fit Doors has been protecting WA homes for over 25 years. Looking for modern, high-quality security doors and screen delivered with personal, old-fashioned service? Contact us for a no-obligation chat. We guarantee you quick and effective solutions.